Some Problems Encountered In The Work of Circular Vibrating Screen
2021-05-29
The circular vibrating screen adopts the cylindrical eccentric shaft exciter and the local block to adjust the amplitude. The circular vibrating screen is driven by an inertial vibrator, and the eccentric block is fixed in the middle part to make the screen box vibrate. The material trajectory is circular. According to the form of the vibrator, it can be divided into single shaft vibrating screen and a double shaft vibrating screen.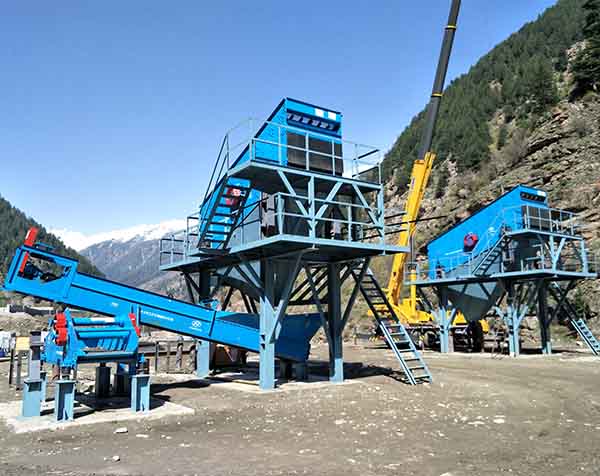 The circular vibrating screen can be divided into a resonance screen and a circular vibrating screen according to whether the vibration frequency is close to or far from the resonance frequency. It has the characteristics of a long screen line, multiple screening specifications, strong excitation force, high screening efficiency, low vibration, low noise, sturdiness and durability, easy maintenance, simple structure, reliable operation, convenient maintenance. However, in production practice, there will be disadvantages such as complex structure, difficult adjustment and many failures.
1. Sub-precision is one of the important problems faced by the mining vibrating screen industry. The screening accuracy of many easy-to-screen materials can reach 98%, but does not include industries such as mineral processing. Therefore, in some industries with high-precision requirements, other methods are usually used to improve accuracies, such as chemical and physical methods to purify materials and improve product quality. If the processing volume is not large, in order to ensure the screening accuracy of the material, ordinary equipment is mainly small screening equipment, such as vibrating screen, linear vibrating screen, ultrasonic vibrating screen, etc.
2. The surface of the circular vibrating screen is too strong and the fabric is uneven. The distance between the funnel and the circular vibrating screen is too large. When the ore enters the circular vibrating screen from the funnel, the impact force on the feed point is too large, resulting in broken beams at the feed point. After the ore enters the feed end of the circular vibrating screen, the distribution is uneven, and the ore always runs to one side, and only half of the screen is used for screening, resulting in serious accumulation on one side and low screening efficiency.
3. The unevenness of the surface of the circular vibrating screen. The feed funnel that enters the circular vibrating screen is a herringbone funnel, the feed belt is often lost, and the funnel accumulates mud, etc., resulting in uneven material distribution. Therefore, when the screen is overloaded, the screen will be worn and damaged.