What Is The Working Principle of Spiral Sand Washer?
The spiral sand washer is mainly used for cleaning, grading, and dewatering sand and gravel. The novel sealing structure of the spiral sand washing machine can adjust the overflow weir to ensure the high efficiency and durability of this series of products. Spiral sand washing machine is suitable for sand production line, construction site, hydropower station, concrete dam site, glass manufacturing, foundry industry, etc.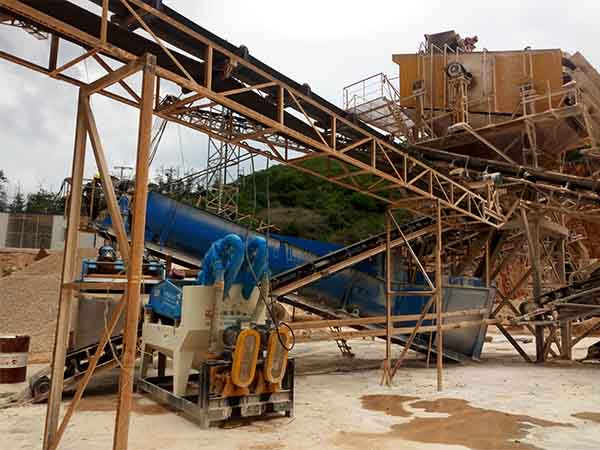 Structure and working principle of spiral sand washer
The spiral sand washer is mainly composed of a weir plate, shell, spiral body, reducer and motor, and other main components. The spiral sand washing machine has three functions of cleaning, dewatering, and grading.
The spiral sand washing machine is arranged at an angle of 15°. The lower part of the water tank is surrounded by a three-sided weir to form a sedimentation tank, and the screw head is immersed in the sedimentation tank. The spiral is continuously rotated by the motor through the reducer, and the clear water is fed from the perforated plate at the bottom of the sedimentation tank. The clean water flow forms a rising water flow, and the foreign matter with a small specific gravity is brought to the water surface and overflows the overflow weir to complete the cleaning.
The particles will sink to the bottom of the tank, and the curved plate at the bottom of the tank causes the sandstone to be pushed upward by the spiral blades. Since the length of the water tank exceeds the appropriate length of the lower horizontal line, the excess water in the sandstone is removed during the upward movement. Water flows into the sedimentation tank from the drain on the other side of the bottom of the water tank. By sprinkling fine particles that do not meet the requirements of the standard to the outside of the weir, the classification of materials can be realized.
Safety precautions of spiral sand washing machine
1. Electrical equipment should be grounded, and wires should be reliably insulated and installed in coiled pipes.
2. When overhauling the machine, the power supply should be cut off first.
3. The input of unqualified materials is strictly forbidden into the machine to avoid damage to the machine.
4. The adjustment, cleaning, and maintenance are strictly prohibited to avoid danger when the machine is running.
Related Products
There are no relevant articles.