Spiral Sand Washer Price Philippines
The spiral sand washer price Philippines has a range according to the processing capacity. The spiral sand washer is a kind of professional equipment for cleaning silt before beneficiation of iron ore, manganese ore, copper ore, tin ore, and other ores with high mud content. LZZG is a manufacturer of spiral washing machines, wheel washing machines, silica sand washing machines, cylindrical screening washing machines, and equipment. Over the years, we have insisted on striving for survival on the basis of quality and development on the basis of credibility, constantly expanding the market and serving users.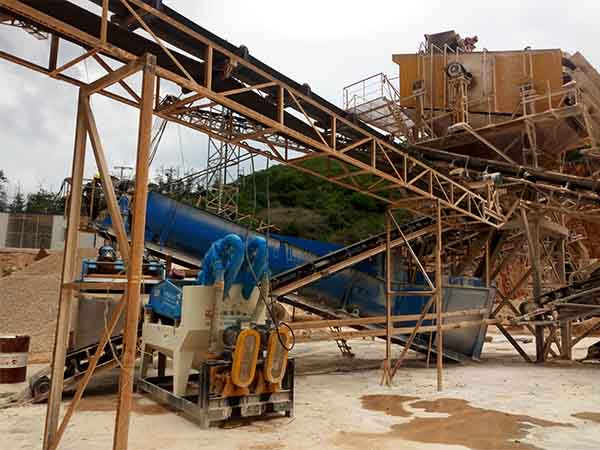 The spiral sand washer can clean and separate the soil and debris in the sand and gravel. Its novel sealing structure, adjustable overflow weir plate, and reliable transmission device ensure the effect of cleaning and dewatering. Spiral sand washing machine is widely used in washing, grading, impurity removal, and fine-grained and coarse-grained materials washing in highway, water and electricity, construction, and other industries.
Spiral sand washer working principle
The material falls vertically from the upper part of the machine into the high-speed rotating impeller, and under the action of high-speed centrifugal force, it collides and crushes with another part of the material flowing around the impeller at high speed. After the materials collide with each other, the materials form a vortex between the impeller and the casing to collide and rub against each other many times, and then they are crushed and discharged directly from the lower part. It forms a closed circuit for multiple cycles and is controlled by the screening equipment to achieve the required particle size of the finished product.
Spiral sand washer features
The spiral sand washing machine has a reasonable structure, high cleaning degree, large processing capacity, low power consumption, and convenient maintenance. The novel sealing structure, fully enclosed oil bath transmission device, and adjustable overflow weir plate ensure the high efficiency, durability, good cleaning, and dehydration effects of these products.