Graphite Beneficiation Equipment
As an important battery anode material, graphite is of great significance in the development of new energy. Graphite beneficiation technology and equipment have also been developed. The graphite beneficiation process mainly includes the stages of crushing, grinding, and beneficiation.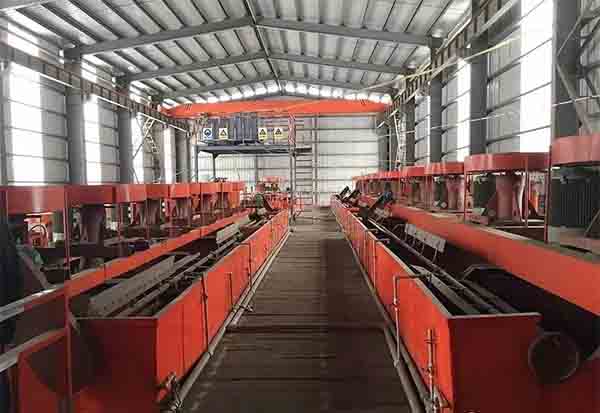 1. Graphite crushing
Graphite ore is soft in nature, so the crushing process of graphite is relatively simple. Usually, two-stage closed-circuit crushing, two-stage open-circuit crushing, or one-stage open-circuit crushing process is adopted. A jaw crusher is usually used for the first-stage crushing of graphite ore. The secondary crushing can use a cone crusher to further reduce the particle size of graphite ore. Screening equipment can use a circular vibrating screen.
2. Crystalline graphite grinding
Graphite has a flake structure. In the grinding stage, it is necessary to ensure that the graphite concentrate has as many large flakes as possible to improve the large flake rate of the concentrate. Rod mill, vertical stirring mill, and other equipment can be selected as the main grinding equipment.
3. Crystalline graphite beneficiation
According to the properties of raw graphite ore, the beneficiation of crystalline graphite can be divided into four types: coarse flake graphite ore, medium flake graphite ore, fine flake graphite ore, and cryptocrystalline graphite ore. Due to the different properties, the four types of graphite have different sorting methods, and flotation is the main sorting method. In the process of graphite flotation, the flotation equipment can use an air-filled agitated flotation machine, a mechanical agitating flotation machine, a flotation column, etc.
The graphite flakes of coarse flake graphite ore are large and have good floatability. The graphite particle size is generally 0.6~2mm, and the graphite content is 1%~10%. Medium flake graphite ore has good floatability, its graphite particle size is 0.2~0.6mm, and its graphite content is 4%~15%. The graphite flakes of the fine flake graphite ore are smaller, and the floatability is poorer than that of the medium flake graphite. The particle size of the graphite in the original ore is 0.03~0.2mm, and the graphite content is 6%~15%.
Related Products
There are no relevant articles.