The Structure And Applications of Tailings Dewatering Screen
2021-06-26
Tailings dewatering high-frequency vibrating screens are mainly used for dewatering tailings of iron ore, copper ore, gold ore, aluminum ore, and coal slime recovery in coal preparation plants. It has the characteristics of simple structure, low cost, high efficiency, low energy consumption, low noise, and convenient maintenance.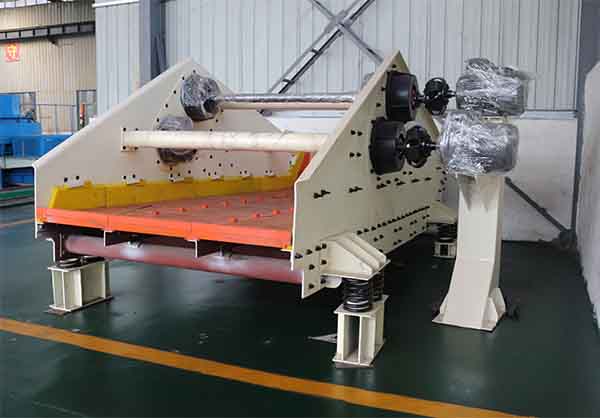 The structure of tailings dewatering screen
The tailings dry discharge screen consists of a screen box, a supporting device, a motor frame, a vibrator, a universal drive shaft, a belt coupling, a motor, and other components.
1. Vibrator exciter
The vibrator is mainly composed of a bearing seat, rolling bearing, eccentric block, shaft, oil injection device, and protective cover. Adjusting the angle between the primary and secondary eccentric blocks can change the magnitude of the exciting force. A special fit is adopted between the bearing and the bearing seat and the shaft. The bearing life is doubled, which greatly reduces the maintenance workload of the vibrator and improves the working environment. It can be used on circular vibrating screens, or self-synchronizing technology can be used on linear vibrating screens.
2. Screen box
The screen box is composed of a screen frame, a screen surface, and a screen surface fixing device. The screen frame is mainly composed of side plates, upper and lower beam groups, supporting device seats, inner and outer reinforcement plates of the side plates, and longitudinal beam angles. The longitudinal beam angle steel is installed on the lower cross beam to support the screen surface and materials, and the supporting device seat is connected with the supporting device to support the weight of the vibrating part of the entire screen. The vibrator is directly installed at the two holes of the side plate, and the inner and outer reinforcing plates are added to the vibrator attachment. All main components and side plates are connected by torsion shear-type high-strength bolts.
3. Tape coupling
The vibrator and the motor are connected by a belt coupling to isolate the motor. The coupling is composed of two half couplings and tape. The two half couplings are connected with the tape through a pressure plate and bolts into a hole.
4. Supporting device
The tailings dewatering screen is connected to the foundation through four sets of supporting devices. The supporting device is mainly composed of an upper seat, a coil spring, and a base.
5. Cardan shaft
The power is transmitted between the two vibrators through the cardan shaft of the car. Since the universal joint shaft can move freely in the axial direction, the bearing is prevented from being subjected to axial force.