Sand washing machine with multiple functions
2018-06-07
Sand washing machine is a washing equipment for artificial sand and natural sand, which is widely used for washing materials in industries such as gravel field, mining, building materials, transportation, chemical industry, water conservancy and hydropower, and concrete mixing station. It can remove the impurities covering on gravel, and destroy the moisture of coated sand to facilitate dehydration to play an effective role in sand washing. Sand washing machine, also known as stone washing machine, is mainly used for removing impurities (such as dust) from sand. Because it uses washing methods more, so it is called sand washing machine. And because it is used for washing crushed sand generally (broken by stone), so also called stone-washing machine.
But there are many other functions besides washing of our sand washing machine, which are screening, fines recycling and dewatering.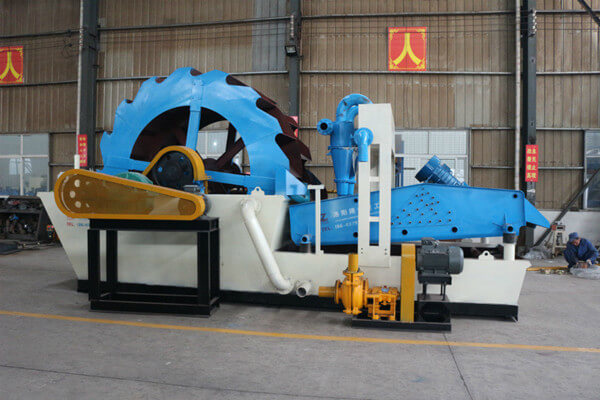 How it works?
*Washing: The bucket is driven by the motor through the reducer and rotates in circle. There are many sand storage web grooves and bucket screen for sand storage and primary dewatering. When the bucket moves, sand can be put out by sand storage web groove after being cleaned in the cleaning tank and primary dewatered on the bucket screen.
*Recycling: Flowing slurry water is extracted by slurry pump, fine sand is collected by the centrifugal force of the cyclone, then fed to the polyurathane screen from the apex spray. The 0.16-3mm fine sand and water are efficiently separated through the vibration screen.
*Dewatering: coarse sand (3-10mm) and fine sand (0.074-3mm) are fed onto polyurathane vibrating screen for dewatering.
So if you need to process the impurity sand, the sand washing machine will be your best choice.