Process Design Of Basalt Sand Processing System
2022-11-23
The crushing of hard rock such as basalt and granite is easy to encounter serious wear and tear of parts, low efficiency, low output, or bad finished sand type and high fineness modulus.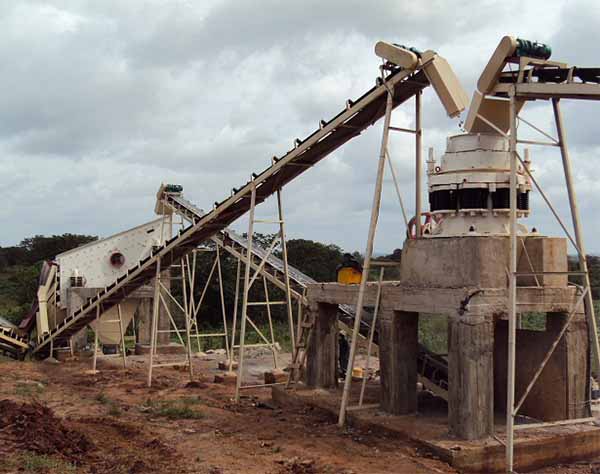 1. Basalt crushing processing difficulties
A. Basalt has high compressive strength, high hardness and great difficulty in crushing and processing, which is easy to cause the actual processing capacity of crushing equipment to reach the theoretical output.
B. After broken, the grain type of the finished product is poor, and there are more pieces of stone.
C. The finished product has less fine particles and low stone powder content.
2. Basalt sand processing technology
A. Equipment selection
According to the characteristics of basalt, the process of "four-section crushing, vertical shaft impact breaking and rod mill combined sand making" is adopted.
B. Grain type control measures for finished aggregate
a. Medium and fine crushing control crushing ratio, continuous feed gradation, realization of packed feeding, laminating crushing and other measures to control the quality of grain type.
b. The basalt after crushing is shaped. The aggregate enters the sand making machine, and after shaping, the finished material of small stone and rice stone is produced in the second screening workshop.
C. Fineness modulus, stone powder content control
a. Increase the rotor speed of vertical shaft impact sand making machine, increase the linear velocity of aggregate in the crushing chamber, increase the sand formation rate, and reduce the fineness modulus of sand.
b.The effect of sand making can be improved by adjusting the feed gradation of vertical shaft impact breaking.
c. In this process, all the aggregate < 5mm after medium and fine crushing enters the vertical shaft for impact breaking and shaping, so as to control the quality of the finished sand.
d. The coarse particles < 5mm (mainly 3-5mm) enter the rod mill for re-crushing to adjust the fineness modulus of the finished material and the content of stone powder.
e. The lower the water content of the processed aggregate is, the better the sand making effect is. According to this characteristic, the system adopts full dry production to improve the sand making effect of the sand making machine.