How to Control The Content of Stone Powder in Sand Production Line?
2021-06-11
In order to improve the quality of finished sand and gravel materials, sand washer equipment is generally equipped in the machine-made sand production line. Sand washing sewage will be generated during the sand washing process.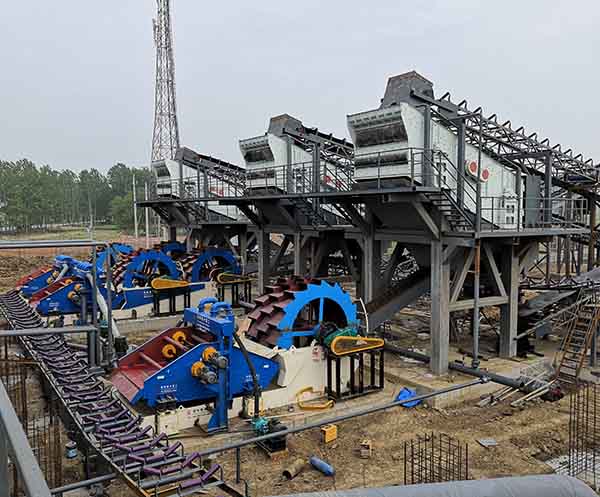 Machine-made sand is now the main raw material in construction, water conservancy, and other engineering projects. With the increase in investment in these projects, the demand for machine-made sand raw materials has also greatly increased, and there are also very strict requirements on the quality of machine-made sand raw materials. The main factor affecting the quality of machine-made sand is the stone powder produced during production. If the machine-made sand contains an appropriate amount of stone powder, it is beneficial for its use, but there are strict requirements on the content of the stone powder. The general requirements for the content of stone powder are Type I sand ≤ 1.0%, Type II sand ≤ 3.0% and Type III sand ≤ 5.0%.
How to control the content of stone powder in the sand production line?
1. Adopting sand washing equipment. If the stone powder content in the machine-made sand is too high, it needs to be cleaned with a sand washer. Only when the water-washed stone powder content reaches the standard can it be considered qualified, and it can be used as finished machine-made sand.
2. A spiral classifier is installed under the stone powder adding bucket. The spiral classifier is evenly added to the finished sand storage belt conveyor so that the stone powder is evenly mixed.
3. Arrange a stone powder storage yard. The stockyard can not only adjust the addition amount, but also reduce the moisture content through natural dehydration, and adjust the moisture content of the finished sand to a certain extent.
4. When arranging the sand production line, try to make the wastewater treatment workshop close to the finished belt conveyor. It can be transported smoothly by a belt conveyor, and the dry stone powder cake after being dried by a filter press is processed into a loose powder form by a double-roll crusher to prevent the stone powder from forming agglomerates.