The Linear Panel Vibrating Screen
The linear panel vibrating screen changes the water tension on the surface of the slurry through the exciting force, and the slurry water passes through the screen and becomes the under-sieve. The fine materials are blocked by the screen to form a filter layer that is moved forward and discharged under the influence of the vibration force. The linear dewatering screen is mainly used for tailings dewatering, coal slime dewatering in coal preparation plants, sand washing dewatering, and ceramic slurry dewatering, as well as wet and dry classification, dewatering, de-intermediation and de-sliming of medium and fine particles.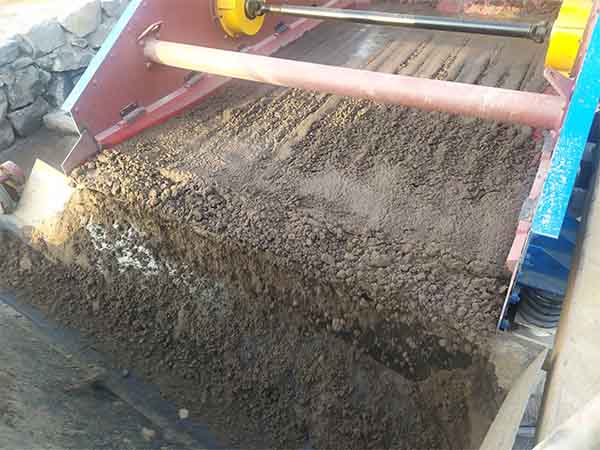 Working principle
The linear panel dewatering vibrating screen adopts dual-motor self-synchronization technology, universal eccentric block, and adjustable amplitude vibrator. Two unconnected vibrators are respectively driven through the belt coupling for synchronous and reverse rotation. The centrifugal force generated by the two groups of eccentric masses is superimposed along the vibration direction, and the centrifugal force counteracts it. Thereby, a single excited vibration along the vibration direction is formed, which makes the screen box perform a reciprocating linear motion.
The technical advantages
1. Good dehydration effect, large processing capacity
Inclined screen surface design, -5゜ sieve surface climbing, and dehydration. The finished product has low water content, high efficiency, and a large processing capacity per unit area.
2. Waterproof frequency-adapted special motor
Adopting waterproof and a frequency-adapted special motor. Dual-motor drives self-synchronization technology to achieve rapid dehydration effect.
3. Continuous dehydration operation
The professionally designed frequency, amplitude, and low-consumption power source are suitable for 24-hour continuous dry drainage operations for various dehydration needs.
4. High structural strength and durability
The method of riveting and welding the section steel components constitutes the main body of the frame without internal stress, high strength, lightweight, and durability.
5. Reasonable design and customizable
Can be customized according to output and water content. The side panels of the fuselage have reinforced panels, the bottom is equipped with supports, the bottom is punched with horizontal bars, and the discharge port is supported by triangular steel plates.
6. Long service life
The high wear-resistant screen has a long service life. Modular assembly design, easy replacement, and cost-saving. The mesh size can be selected according to requirements.
7. Low investment
The dewatering screen has a small investment, a simple process, and a small area, which is convenient for system process layout.
Related Products
There are no relevant articles.