How To Recover Copper Associated Minerals?
Different types of copper ores often contain different associated useful components. Among the associated minerals of copper ore, the more common ones include a lead-zinc ore, molybdenum ore, nickel ore, and so on. In addition to the recovery of copper ore, a comprehensive recovery of associated minerals is also required. The following will briefly discuss the comprehensive recovery of copper-associated minerals around these three types of associated minerals.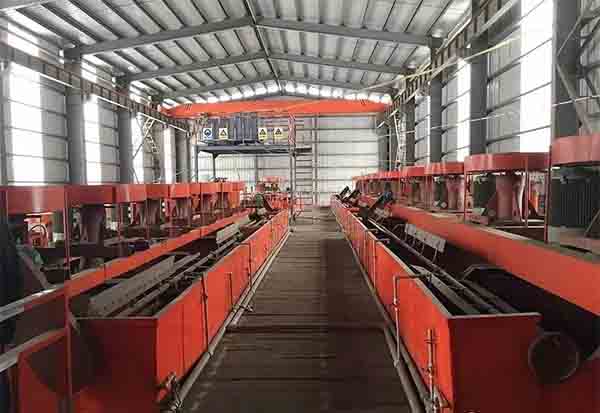 1. Comprehensive recovery of associated lead-zinc ore
Associated lead-zinc deposits mainly occur in skarn copper deposits, pyrite-type copper deposits, and sandstone-type copper deposits. The beneficiation processes of the associated lead-zinc ore recovered from the three types of deposits are quite different. Two minerals, lead sulfide, and zinc sulfide are often associated with skarn-type or sandstone-type copper deposits, and flotation is the main beneficiation method. The technical process can consider the copper-lead-zinc preferential flotation process, the copper-lead mixed separation-the tailings zinc flotation process, and the copper-lead-zinc mixed flotation-copper-lead-zinc separation process. The selection is based on the properties of the ore.
2. Comprehensive recovery of associated molybdenum ore
Molybdenum minerals often appear in porphyry copper deposits, mainly in the form of molybdenite, and copper minerals mainly in the form of chalcopyrite and bornite. The comprehensive recycling value of molybdenum is very high. When the associated molybdenum grade reaches 0.01%, a comprehensive recovery of molybdenite can be considered, which is one of the main sources of molybdenum minerals.
Since the floatability of molybdenite is similar to that of copper sulfide minerals, the sequential priority flotation process will be avoided in the selection of beneficiation and recovery processes. The more commonly used process flow includes copper-molybdenum mixed flotation-copper-molybdenum separation process, stage flotation process of coarse concentrate regrinding and reselection, partial preferential flotation process, fast preferential flotation process, etc. When the molybdenum grade in the raw ore is low, it is difficult to separate the molybdenum concentrate from the copper-molybdenum mixed concentrate, and the partial preferential flotation process or the fast preferential flotation process is usually used.
3. Comprehensive recovery of associated nickel ore
Associated nickel ores mainly occur in copper-nickel sulfide-type copper deposits. Nickel minerals mainly exist in the form of pyrite, and copper ore mainly exists in the form of chalcopyrite. According to different ore structures, embedded particle sizes, and floatability, the process flow of copper-nickel sulfide type deposit recovery mainly includes stage grinding-stage flotation, copper-nickel mixed flotation-copper-nickel separation, copper preferential flotation- copper-nickel mixed flotation, iso-floating-nickel-enhanced recovery, etc.
Related Products
There are no relevant articles.