GX Series High-efficiency Sand Scrubbing Machine
GX series high-efficiency scrubbing machine is an innovative product developed by LZZG in more than 10 years of R&D and manufacturing, which can complete 50-250 tons of sand washing and recycling work per hour. GX series high-efficiency scrubbing machine is widely used in quartz sand, ore sand, mountain sand, especially for the scrubbing and recycling of materials with clay, clay lumps, hard ores, aggregates, and other materials.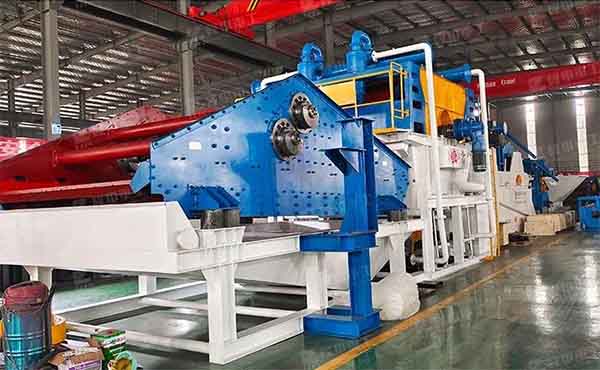 Working principle
1. The mixed material first enters the scrubbing machine for full scrubbing, and then passes through the impeller separator for cleaning and water control to achieve the effect of mud and sand separation.
2. The bucket material enters the coarse sand dewatering area of the dewatering screen for dehydration, and the overflowing dirty water is concentrated and concentrated by gravity classification of the separator group and then discharged into the inlet of the impeller separator through the underflow port for secondary cleaning.
3. The mixture passing through the coarse sand dewatering zone is then concentrated by gravity classification in the second separator group and discharged into the fine sand dewatering zone of the dewatering screen through the underflow port. So as to achieve efficient sand washing.
Features
1. Reasonable structure. Combining the scrubbing machine with the wheel sand washing machine can fully rub the material with the material to remove the surface attachment, and at the same time, the high-speed rotating stirring shaft is used to significantly improve the cleaning effect.
2. There is a maintenance platform, which is convenient for viewing the data of the filter pressure meter, replacing the screen, and the drip port of the cyclone, etc., which is convenient for maintenance and maintenance.
3. The slurry pump adopts the slideway type installation method, which reduces the area of small, simple installation and convenient maintenance.
4. Long service life, less wearing parts. Specific models can be tailored according to customer requirements.