Basalt Processing Technology Design
The raw material of a hydropower station is dense bulk basalt and almond basalt, with dry compressive strengths of 139.3-185.7MPa and 163.3-172.9MPa. The total amount of aggregate processed concrete by the system is about 1.2 million m³, and the production capacity of the system is 154,000 t/ month.  Among them, the processing capacity of wool is 560t/h, the production capacity of finished aggregate is 396t/h, and the production capacity of finished sand is 140t/h.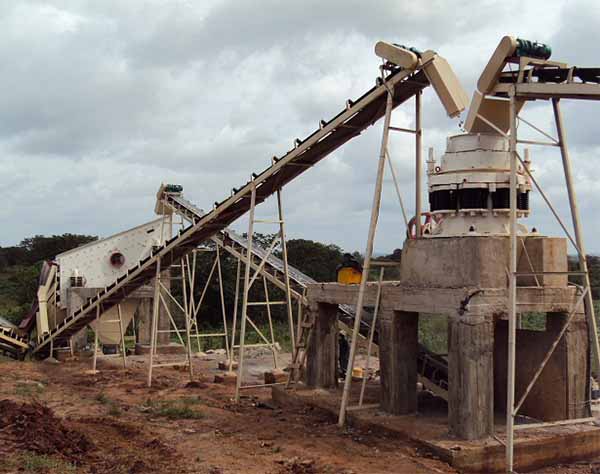 Equipment selection
According to the characteristics of basalt, it is decided to adopt the combined process of four-stage crushing, vertical shaft impact breaking and rod mill. The main workshops are arranged as: coarse breaking workshop, medium crushing workshop, screening workshop, sand making workshop, inspection screening workshop, coarse and fine aggregate storage field, etc.
Granular control of finished production
1. Medium and fine crushing control crushing ratio, continuous feed gradation, filling feeding, lamination crushing and other measures to control grain quality.
2.In view of the high content of needle flake in broken basalt, the shaping measures are adopted.The first screening workshop after medium and fine crushing does not produce small stone finished materials, only large stone and stone finished materials. The aggregate enters the ultra-fine crushing workshop (the workshop is arranged with 3 sets of vertical shaft impact crusher with shaping function), and the finished material is produced in the second screening workshop after shaping.
Operation measured effect
1.The actual output of rotary break, jaw break and conical break in the coarse crushing workshop is more than 89% of the nameplate output.The actual output of fine cone breakage and ultra-fine vertical shaft impact breakage is only 50%-65% of the nameplate output. Therefore, the loading rate of coarse crushing equipment and medium crushing equipment can be set at a higher value of 0.8-0.9, and the loading rate of fine crushing equipment and ultra-fine crushing equipment can be set at a lower value of 0.5-0.6.
2. According to the operation measurement data, the needle flake content distribution of the finished large stone, medium stone and small stone fluctuates between 0.3-6.9% (average 2.8%), 1.0-7.8% (average 4.7%) and 0.7-7.3% (average 4.54%).Are in line with the specification requirements of ≤15%, the quality of coarse aggregate is qualified.
Related Products
There are no relevant articles.